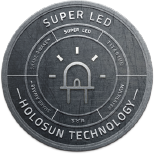 Super LED
Holosun Super LEDs provide a versatile range of intensity for the brightest environments down to no-light situations.
Feature: High luminous efficiency, the human eye is more sensitive and comfortable to gold and green(high visual function).
Not only does the Super Green LED give the user an option for those who have difficulty seeing in the red color spectrum, but it also gives greater power efficiency when using the optic in high brightness settings...